---
National Energy Geek Day
October 6th
---
Trivia. Competitions. Prizes. Your energy geek community. #NationalEnergyGeekDay
---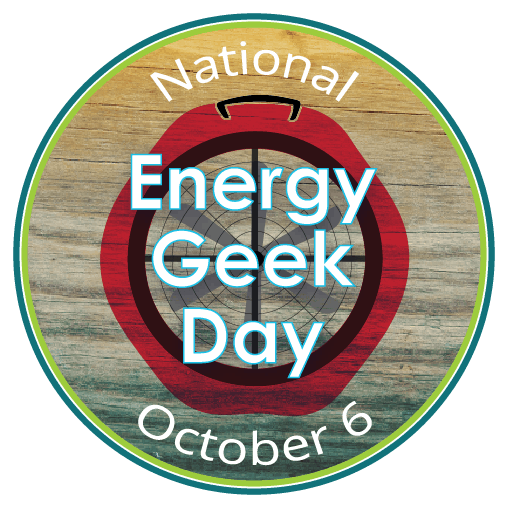 Celebrating the people who work to make homes and buildings more efficient, healthy, and resilient!
---
We created National Energy Geek Day in 2018 to show some extra love to energy raters, auditors, and other energy-efficiency professionals.
Why? We're energy professionals ourselves, so we know it's not an easy job – it often involves driving long distances, working in all kinds of weather, and building relationships with everyone on the jobsite, from trades and site supervisors to homeowners. Passion and "energy geekiness" is the thing that keeps us all going, so let's celebrate it!
We know that for energy geeks, caring about energy is a way of life! That's why the term "energy geek" is a compliment, not at all an insult. When energy geeks like us attend an industry conference, we continue to discuss building science long after the sessions have ended. Whenever we enter a new building, we scope out the construction and appliances. Energy geeks live and breathe building science.
We dream of a world where everyone lives in a home that is efficient, healthy, and resilient. Thanks to the determination and passion of energy geeks worldwide, we believe we'll get there! We are proud to bring attention to the passionate, intelligent energy geeks who help make the American dream of owning a home more achievable!
Want to stay in the loop with National Energy Geek Day celebrations? Join the Facebook group!
Don't forget to use the hashtag, #NationalEnergyGeekDay, and tag @NRGLogic so we can see your celebrations!
We Found THE Energy Geeks of 2019!
Each fall, we launch the National Energy Geek Day competition, in search of the geekiest of the energy geeks!
---
Grand Champion:
Terrawattblake
---
Selected via raffle. Each Energy Geek Day point is worth one entry.
---
Congratulations winners! Enjoy your bragging rights (and prizes)!
---
Since the events of 2020 & 2021 has taken us all by surprise, the National Energy Geek Day competition has taken a break. But, we look forward to our next search for the Energy Geek soon! Be ready!
The person who earns the most points overall will be the official Energy Geek Champion for 2019!
Prize package includes:
Customized beer stein
Energy Geek Day bumper sticker
One year of bragging rights
$25 gift card
Energy Geek Day swag package
Each point you earn is worth one raffle entry. On Energy Geek Day, we'll randomly draw one winner to earn Energy Geek Day Runner-Up 2019.
Prize package includes:
Customized beer stein
Energy Geek Day bumper sticker
Energy Geek Day swag package