The outlook for the Denver-area housing market is bright, but we should be wary of persistent labor challenges and effects on housing demand.

Published October 14, 2020
Denver-area housing has been on a wild ride in 2020. With a COVID-19-induced slowdown driving permit totals to multi-year lows in the spring months, permit activity came roaring back in the summer. The metro area approved 3,258 single-family permits between June and August, down just 0.8% when compared to the same time last year. Multi-family permits suffered a larger decline, although with 506 permits approved in the last six months, multi-family activity fell just 17.7% versus 2019.
The uncertain outlook for Denver housing construction in coming months is affected by countervailing factors. On one hand, note that local permit offices were closed for a time to prevent community transmission of coronavirus, and pent-up demand for new permits may have played a role in the strong summer rebound. Additionally, labor market disruption this year has reduced the pool of qualified buyers, suggesting that homebuyer demand may yet weaken. Nonetheless, the big surprise of the year is housing's outstanding resilience despite the very real challenges the industry has faced.
This resilience is due in large part to enhanced unemployment benefits, limits on evictions and foreclosures, and the Federal Reserve's commitment to accommodative interest rate policy. Our forecast models suggest that new housing permits will exhibit a seasonal decline, with additional downward pressure due to depressed employment levels. Still, this year has shown us that previous patterns and conventional wisdom are fallible (see the dramatic collapse and quick rebound of homebuilder sentiment), and as such we must combine quantitative and anecdotal evidence to create a holistic assessment of our future business prospects.
---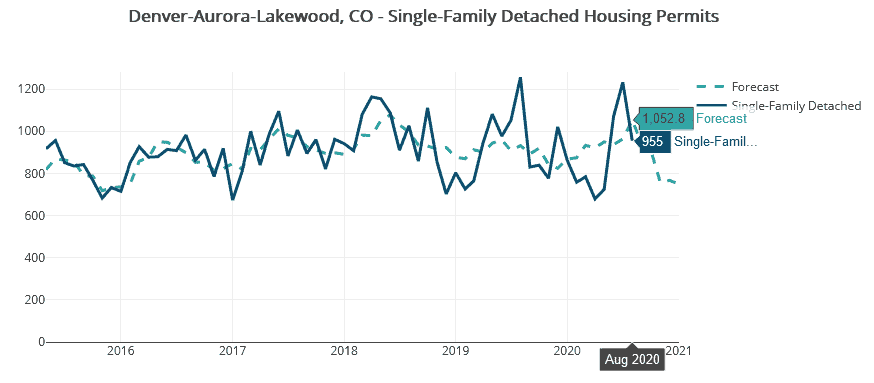 Denver-Aurora-Lakewood, CO, permit data shown in Housing Tides reflects a recent rise in single-family detached units.
---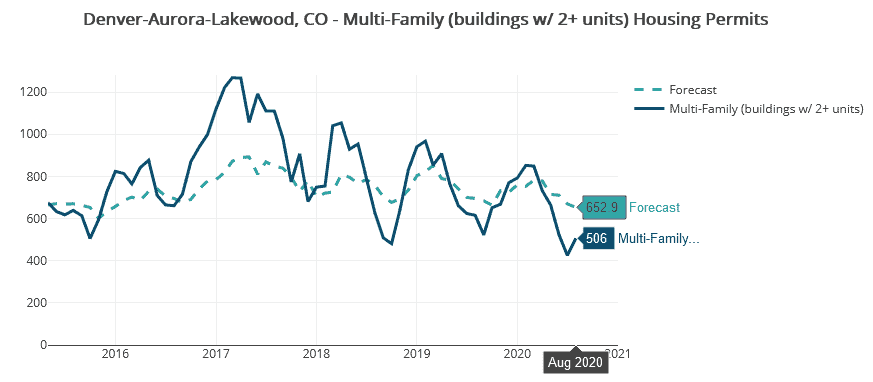 Denver-Aurora-Lakewood, CO, permit data shown in Housing Tides reflects a simultaneous slowing of multi-family activity.
---
Like a Game of Musical Chairs, Housing Shortage Gets Yet More Severe
News outlets have highlighted the extreme scarcity of existing Denver-area housing, with the Denver Post's Aldo Svaldi noting that "The region broke September records for the most homes put under contract, most homes sold, shortest time on the market, lowest inventory and highest median home price." Denver now has just 0.8 months of supply at the current sales pace, the lowest stock of for-sale housing in recent history.
---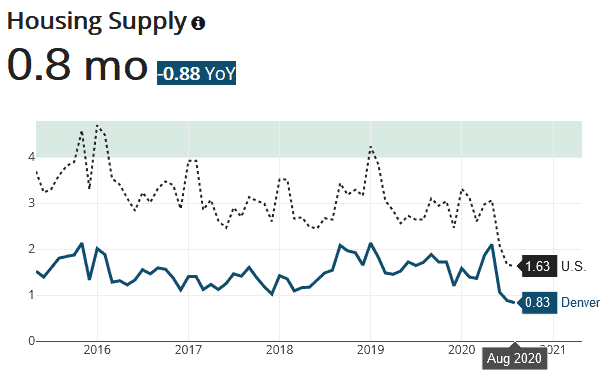 Denver-area housing supply data shown in Housing Tides sets a new low in August with just 0.8 months of supply.
---
Explaining a primary cause of the extreme shortage of housing, Len Kiefer, Deputy Chief Economist at Freddie Mac, writes that nationally "Home purchase mortgage applications are up about 20% from a year ago."
---
Mortgage applications remain up by 20% year-over-year.
---
Latest data on Denver rental vacancy from the Census Bureau estimates that just 3% of Denver rental units were vacant in the second quarter, signaling that there are few opportunities for prospective buyers to pivot to the rental market instead of making a purchase.
---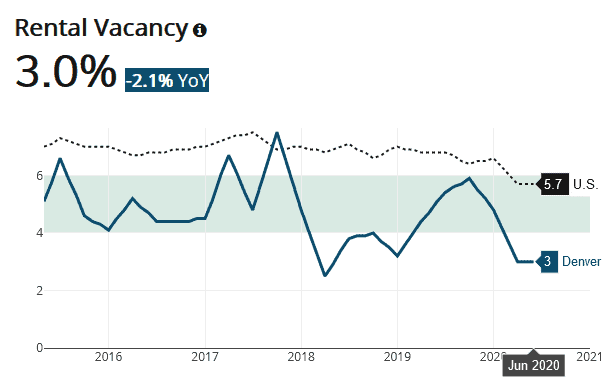 Low rental vacancy points to a general shortage of Denver-area housing, as shown in Housing Tides.
---
New Homes Also Sell at a Rapid Pace
Economist Elliot Eisenberg recently commented on sales of new housing specifically, stating that "New home sales are up a whopping 43.2% Y-o-Y and 14.9% YTD! As for August existing sales, they came in at a SAAR of 6 million, the best level since 12/06, are up 10.5% Y-o-Y, and down just 3.2% YTD despite dismal spring sales! Spectacular!" An EnergyLogic survey of local homebuilders' quick move-in stock shows that ready inventory continues to track at less than 50% of levels one year ago, offering evidence that, like we saw with existing supply, builders are also having no problem closing deals.
Consequently, Denver median sales prices reached an all-time high of $455k in July & August. This 8.3% rise year-over-year is further supported by low 30-yr mortgage rates, which reached 2.86% in September.
Employment Improves, but Challenges Remain
In a promising development, U.S. unemployment has fallen dramatically in the last several months, with the U.S. and Denver unemployment rates falling to 8.4% and 7% in August, respectively.
---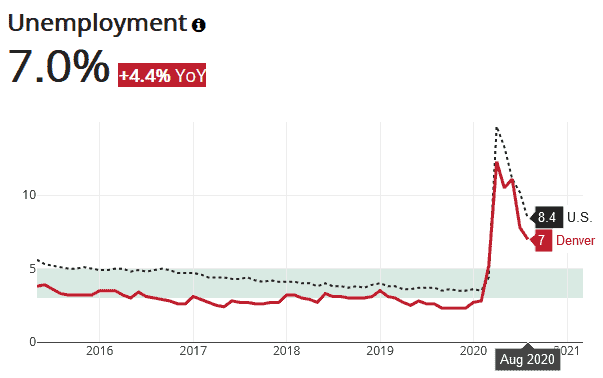 Reaching a high of 12.3% in April, Denver unemployment has fallen to just 7% in August as shown in Housing Tides.
---
However, note that a major contributor to this trend is the exodus of workers from the labor force. Remember that to be counted among the unemployed, an out-of-work person must be actively seeking a job. The U.S. labor force participation rate – the share of non-institutionalized Americans aged 16 and over that are employed or looking for work – has fallen from 63.4% in February to 61.4% in September. This is important because we can observe a decline in the unemployment rate while the total number of employed persons falls; to wit, there were 72k fewer employed workers in the Denver area in August versus one year ago.
A stable Denver housing market depends heavily on the labor market, and we should monitor employment trends as we look forward to a return to full employment. Given that Denver construction sector employment is back at all-time highs, perhaps builders will be able to absorb some displaced hospitality workers to ramp-up capacity and alleviate the present housing supply shortage.
---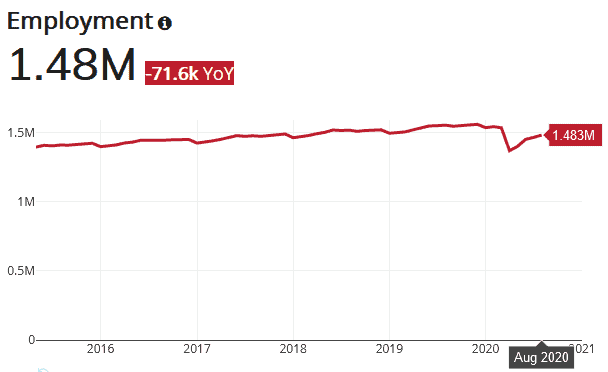 Total employment continues tracking upwards but remains meaningfully lower than at the start of 2020 per Housing Tides.
---
Another important observation is the divergence between high- and low-wage workers. In prior blog posts we referred to various letters – among them V, W, and L – as potential shapes for the economic recovery. What appears to be emerging is in fact a K-shaped recovery, with employment of workers making over $60k per year off just 1.4% from January 2020 levels, while employment of workers making less than $27k per year remains down over 14% in Colorado.
Thus far, the recovery in high-wage employment has supported the local housing economy, but a sustained, equitable recovery depends on strong economic prospects for all members of society and thus warrants monitoring.
---
A look at employment by income group shows considerable differences between low- and high-income workers.
---
Builder Confidence Rebounds
Homebuilder sentiment has regained all lost ground from the depths of the spring months as builders have come to realize that demand for new housing has been robust despite COVID-19 restrictions. In fact, homebuilders in the U.S. West region are reporting their most optimistic outlook since October 2005.
---
Homebuilder sentiment is more positive than any point in the last 15 years as shown in Housing Tides.
---
It's then surprising then to note that architecture firms are reporting no such optimism, with the American Institute of Architects' August report explaining that "Business conditions remained stalled at architecture firms in August… While fewer firms reported declining billings in August than during the early months of the COVID-19 pandemic, the fact that the score has been unchanged for the last three months means that the share of firms reporting increasing billings has not risen during that time."
---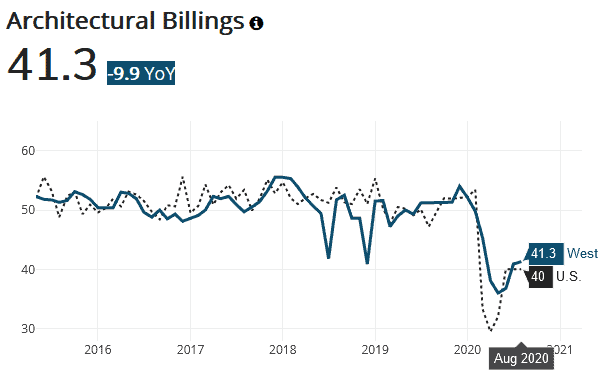 Housing Tides data shows that architectural billings have recovered somewhat but remain in contraction territory.
---
Spared the Worst Of the Pandemic Turmoil
In total, the Denver-area housing industry has been spared the worst of the pandemic's economic turmoil in 2020. The dramatic shortage of local housing points toward strong demand for new homes, which suggests that, in the months ahead, builders will continue to capitalize on buyers' clear lack of other options.
Still, there remains much unrepaired damage to the employment and personal finance situations for Front Range Colorado residents, which weighs on our local housing forecast. Our forecast models suggest we'll see single-family permit totals of 940 in September, 909 in October, 756 in November, 767 in December, and 749 in January. Our forecast is for 633 multi-family permits per month for the six-month period ending in January 2021.
Ready to explore the depth of data in Housing Tides?
Sign-up for a Housing Tides account to access the interface and dive into the data!
Access the Housing Tides Interface
For a limited time only, we're offering complimentary access to Housing Tides. Don't miss out!
---