Using Housing Tides™ and other real estate data to understand the direction of the Denver, Colorado housing market.
Parsing Signals From Latest Data
The outlook for housing in the midst of the COVID-19-induced recession is murky at best. The Housing Tides team has been exploring a wide swath of data from publicly-available sources as we try to make sense of the latest developments. Taken as a whole, we note that housing has performed admirably given the scope of the economic challenges at hand.
Lowest-Ever Mortgage Rates Support Prices, Prevent Inventory Glut
As Jeff Whiton explained for the Housing Tides blog in May, the dearth of housing inventory in recent years has proven a tremendous advantage for home sellers – both new and existing – during the present crisis. As he suggested, home prices have thus far remained resilient, with Redfin reporting the Denver median sales price was $435k, a year-over-year increase of 1.9%. Prices have surely been buoyed by Denver inventory that totaled just 2.1 months of supply in May. An EnergyLogic survey of quick move-in homes among major homebuilders in Colorado shows finished inventory remains steady and is well below the stock at this time last year.
---
---
I urge readers to refer to Redfin's outstanding Data Center, where the real estate brokerage provides regular updates to market conditions. Pending sales in the Denver area were nearly 50% lower year-over-year in April, but pent-up demand led to a massive rebound through May and June. Pending sales are now almost 20% higher than in June 2019.
---
---
Certainly, buyer interest has been aided by the lowest mortgage rates on record - 3.13% as of June 18th – which supports housing affordability even as many potential homebuyers have suffered loss of income.
---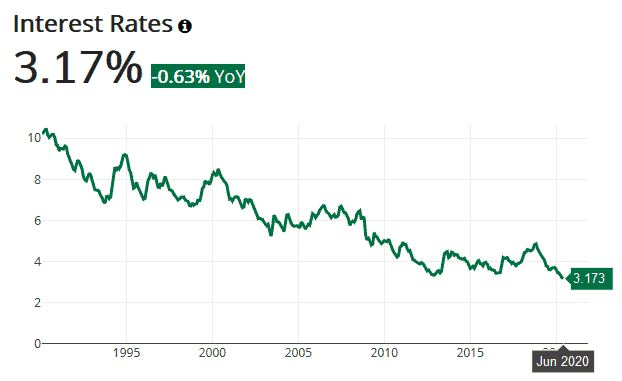 ---
Sticky prices and returning sales volume have engendered a rebound in homebuilder sentiment too, with the NAHB/Wells Fargo Housing Market Index survey of builders also exhibiting a V-shaped recovery.
---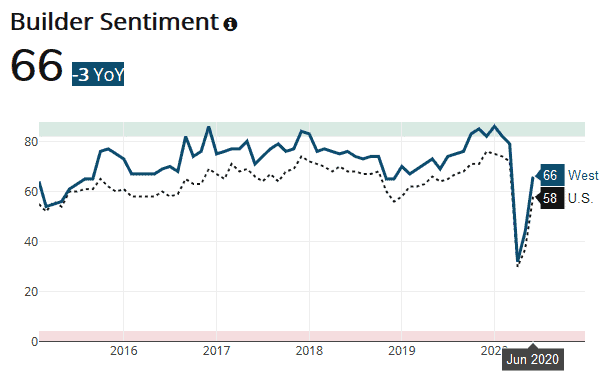 ---
Economic Turmoil Signals We're Not Yet Out of the Woods
The first downside risk to consider is the huge number of unemployed. The Denver metro has been less-affected than other cities dependent on hard-hit tourism and manufacturing sectors like Las Vegas, Orlando and Detroit. Still, BLS data estimate Denver unemployment at 12.1% in April and 162k jobs lost in the last five months, a local jobless rate considerably worse than the peak of 9.1% recorded in 2010-2011.
---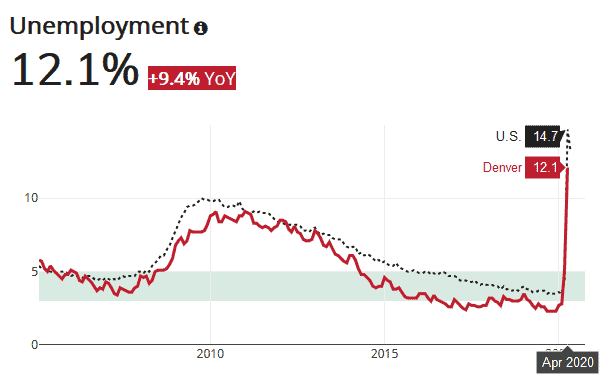 ---
A new dashboard compiled by a team of researchers from Harvard and other institutions shows that consumer spending in high-income ZIP codes has declined more than in low-income ZIP codes. This makes sense, as low-income consumers by definition have less disposable income, but the trend is troubling for two reasons.
Firstly, newly-built Denver housing is decidedly skewed towards the high-income demographic. Persistent trepidation among this group of consumers would signal housing market weakness in the months to come.
Additionally, remember that economic interconnectedness means that one person's income is determined by others' expenditures. If high-income consumers continue to curtail spending at service and retail businesses that primarily employ low-income workers, and with the extra $600 in weekly unemployment benefits provided by the CARES Act slated to expire at the end of July, we can expect a slowdown in the velocity of money that is a meaningful component of GDP.
---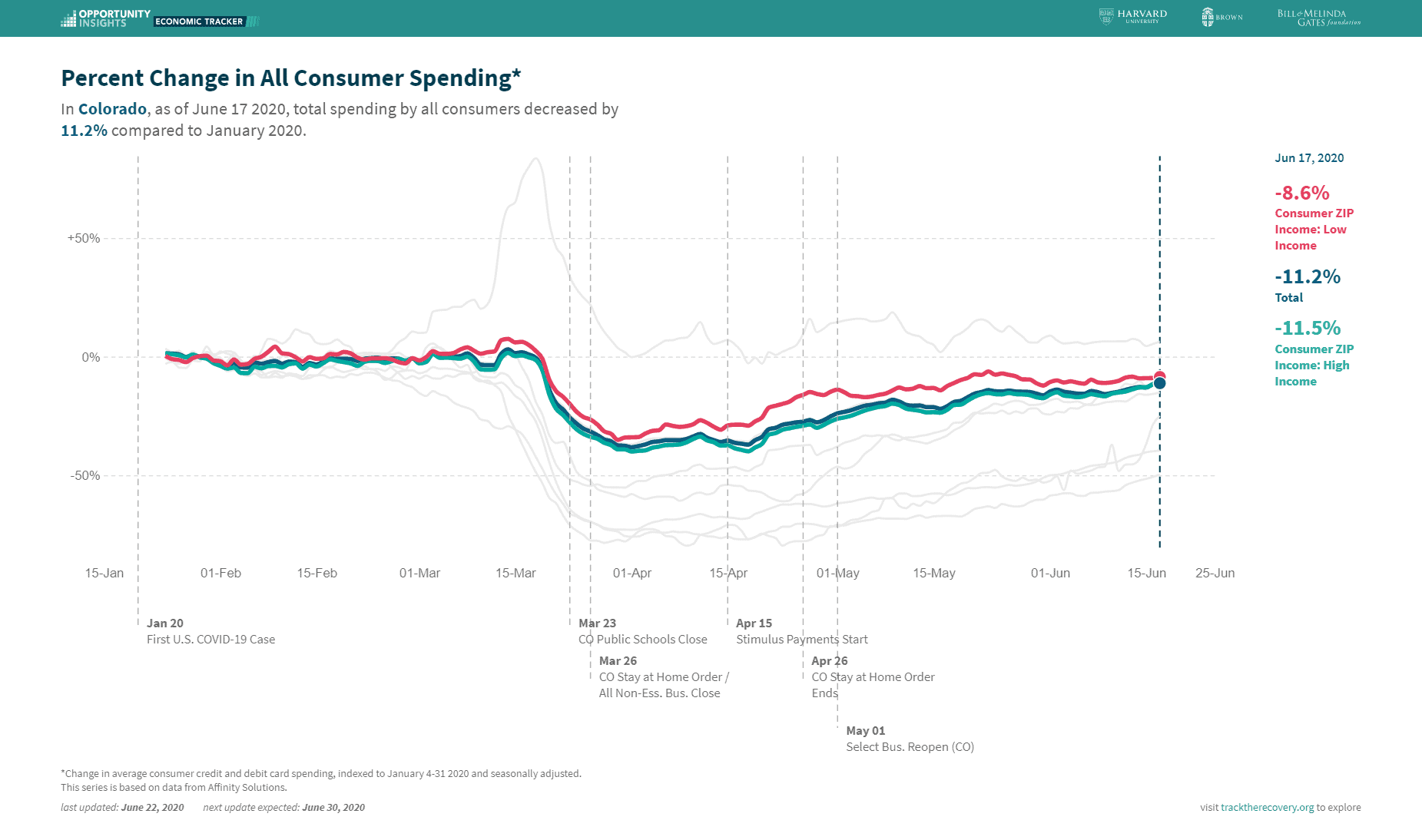 ---
Preliminary June data from the University of Michigan's Surveys of Consumers show strength in both assessments of Current Economic Conditions and Consumer Expectations, with the headline index rising to 78.9 from a low of 71.8 in April. However, some uncertainty persists, with a large portion of survey respondents stating a preference for delaying purchases of durable goods, which include housing. Chief Economist Richard Curtain writes that the "record level of income uncertainty has had a significant impact on consumers' willingness to make discretionary purchases."
---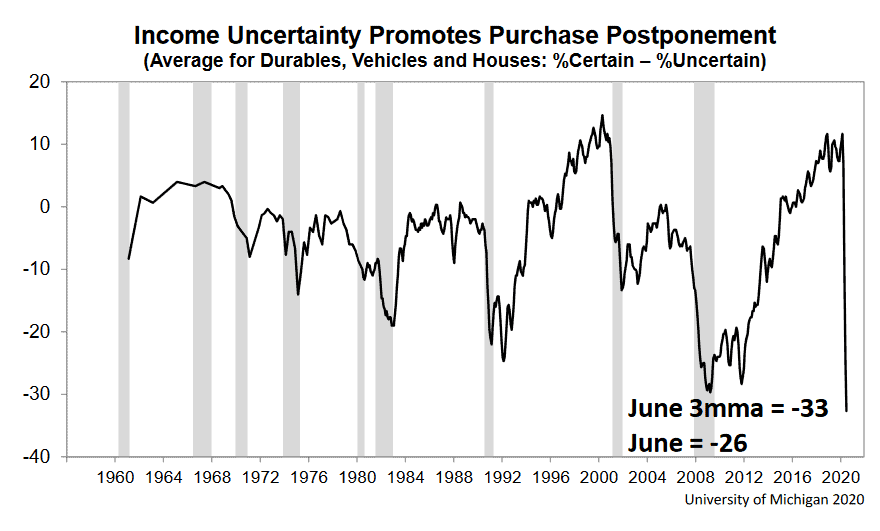 ---
Denver single-family construction permits totaled just 724 in May, down 33% vs. May 2019. Our housing forecast model predicted several hundred more permits due to the rapid rebound in consumer and homebuilder sentiment. We're forecasting reasonably strong summer months leading into weakness in the fall; we expect single-family permits to peak at 960 in August before falling to 720 in October.
---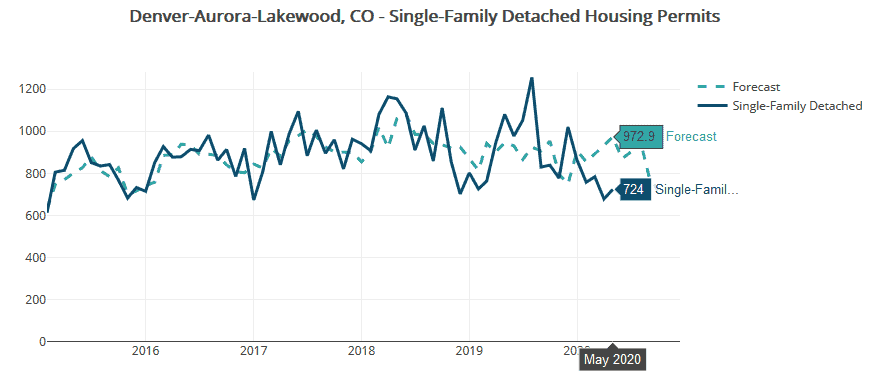 ---
Multi-family permit approvals fell precipitously in May, totaling just 135 permits in the Denver metro area, bringing the six-month average rate to 665 permits per month. We forecast a rate of 640 multi-family permits per month for the six-month period ending in October.
---
---
Media Reporting of Denver Housing is Largely Optimistic
Housing news articles that discuss the Denver, Colorado housing market have shown a positive trend in recent weeks after a substantial swing to the negative in April.
---
---
Here are some headlines offering other perspectives that caught our attention:
Realtor.com, citing "demand for housing… above baseline levels," ranks Denver as the most-recovered U.S. housing market, trailed by Boston, San Francisco and San Diego.  Sentiment: -0.30
Multi-Housing News puts Denver at #5 on their list of Top 5 Markets for Construction Activity.  Sentiment: 0.45
Based on the sector makeup of local job markets, co-investing company Unison assessed the anticipated home price resiliency of the markets comprising the Case-Shiller 20-City Index, ranking Denver #11 among the 20 metros.  Sentiment: 0.60
Tread Cautiously, but Optimism is Warranted
At the moment it appears that, unlike the Great Recession, housing is leading us out of this one. It will be important in coming months to track how quickly unemployed workers are able to rejoin the workforce as joblessness is an essential part of consumer spending behavior and its effects on the housing market.
---
Ready to explore the depth of data in Housing Tides?
Sign-up for a Housing Tides account to access the interface and dive into the data!
Access the Housing Tides Interface
For a limited time only, we're offering complimentary access to Housing Tides. Don't miss out!
---