The Misconception That Buyers "Don't Care" About Home Performance

According to a study by the NAHB, 9 out of 10 people buying a home would choose a house with energy efficient features over a cheaper, less efficient home.

---
I just had a meeting with a builder EnergyLogic is working with and I felt like I was having a déjà vu moment. Our conversation seemed straight out of the early 1990's. Here is the punch line of our conversation: "Buyers simply don't care. [...] From what I see they (the buyers) gravitate to lower cost vs. higher performance. Why should I continue?"
My first thought was "Wow - where to start?"
As I see it, there are four main issues that need to be addressed:
What is the disconnect between what the data supports vs. what we are seeing in the field?
Do we understand how building and expectations have changed in our market and in our country?
The mentality of "if we offer an option, they will buy it, and that will demonstrate that they want it" works for aesthetic options but does it work for performance/efficiency base options?
We think we are educating buyers, but are we really?
---
Here are four things that can help sales personnel bring the conversation forward and arm your prospect with questions to ask your competitors:
1 - What is the disconnect between what the data supports vs. what we are seeing in the field?
Data from all sectors disproves that buyers do not care. For example, The National Association of Home Builders (NAHB) released a study titled What Home Buyers Really Want; an excerpt regarding the purpose of the study states that it is "a study which outlines home buyers' preferences for home type and size, room layout and design, kitchen and baths, windows and doors, accessibility and outdoor features, electronics and technology in the home, energy-efficiency and choosing a community."
So what do homeowners want?
"First and foremost, energy-efficiency. Some of the most wanted features involve saving energy, i.e. energy-star rated appliances and windows, and an energy-star rating for the whole home. Nine out of ten buyers would rather buy a home with energy-efficient features and permanently lower utility bills than one without those features that cost 2% to 3% less." Additional key findings of the NAHB study is available here.
According to the U.S. Department of Energy:
A typical existing resale home in the United States scores 130 on the HERS® Index system and would have utility costs of approximately $200,000 over a 30-year mortgage.

Utility costs for a home that scores 100 on the HERS Index would be 30% less, saving $60,000 in operating cost

Utility costs for a home that scores 65 on the HERS Index (which is approximately the average score for new homes in Colorado), would be approximately half, saving $100,000 in operating cost over 30 years.
This data is meaningful to home buyers and has been shown to influence buying decisions.  There are many reasons why homeowners buy the homes that they do - location, quality, price, amenities, and other factors play into those decisions. In the past, energy-efficiency was believed only to have played a small role in particular home-purchase decisions, but studies like the NAHB's are supporting that in our modern world, energy-efficiency provided by a high-performance home is now in the mix when making a new home-buying decision.

---
2 - Do we understand how building and expectations have changed in our market and in our country?
Today's modern consumer expectation has not directly followed the evolutionary path that our buildings have. For example, the NAHB study also indicates that today's buyer wants a bigger house on a smaller lot, more bedrooms, basements, garages, luxury master suites, etc. Builders have responded to these desires, but the way homes are being built has also evolved which has shifted buyer's expectations in an interesting way.
Building materials and systems have changed dramatically over the course of the last 25-30 years. As an example, when I started in the industry working for a regional production builder, my task was to research how to bring new "green environmental" building materials into the production building arena. These materials included things like I-joist, OSB, and blown fibrous insulation.
These building materials are the "norm" found on construction sites today. Straighter, more dimensionally sound manufactured lumber, blown insulation, and all the other modern construction materials improved the structure and performance of our homes. Pure and simple, these materials made our homes tighter and more efficient by themselves. We can utilize them in different ways to get even better performance, but the main point is that the expectations of homes have changed because we build differently than we did in the past.
Over the course of 25-30 years, people have moved into a new home and been more comfortable, paid lower utility bills, and have begun to associate modern expectations with new home purchases. Most of these expectations are never spoken out loud and many of them have been passed down from generation to generation outside of the influence of the building industry. Now most buyers believe that just because it is new, it will perform according to these unspoken expectations. Durability, efficiency, and especially comfort, are the hallmark of these expectations and are the ones that lead to the increase in builder warranty issues.
I expect to be able to walk from room-to-room and from floor-to-floor in my underwear and be comfortable. If that comfort level is lacking and does not meet my expectations, I will call the warranty department. These expectations need to be included in the buying and selling process and builders need to double-down on creating and understanding that just because it is new, all homes will not perform equally. Some new homes perform better than others, but all will perform better than a 1980's house. The trick for builders is to demonstrate that my new home is better than the competitors.
3 - The mentality of "if we offer an option, they will buy it, and that will demonstrate that they want it" works for aesthetic options but does it work for performance/efficiency based options?
The mentality of "if we offer an option they will buy it which demonstrates that they want it" mentality works for aesthetic options, but does not work for performance/efficiency-based options. Granite counters, hardwood floor, additional bedrooms and other aesthetics are options builders can offer. Levels of performance are integral to how a home is constructed that is either there, or is not. Consumers already expect the home to perform, so a performance option makes no sense and experience has demonstrated over the years that they don't sell. When you try to sell efficiency as an upgrade, aren't you saying that your base house is not as efficient? Why would a buyer want to buy an inefficient home from you when it appears that efficiency is included with your competitor's home? What ends up happening is the option is not sold which is interpreted as meaning the public is not interested.
Thrive Home Builders has the best-documented case demonstrating this fact. They offered their version of a zero-energy home as an option, which resulted in only selling a few of these homes. They then moved to include it as a standard feature, including the additional $30,000 price-tag, and have had no problem selling the new package. They, therefore, have made zero-energy and indoor air quality standard features of their package offering, which has been the number one differentiator between themselves other market competitors.
4 - We think we are educating buyers, but are we really?
If our sale techniques are not working to sell what we believe to be the best product, is it a correct conclusion that our buyers don't want what we are offering, or does it say something more about our sales technique? Transitionally, in the Colorado market, builders have given away the performance measures in their homes rather than selling them. I believe that a buyer's research extends to the following; location, schools, floor plan, and aesthetics. They visit a specific community so they have already made a location and school decision. Now the salesperson presents and sells the architectural layout and configuration of the home and the aesthetic options.
The majority of buyers don't ask more than superficial questions about the performance and efficiency of the home. Therefore, it is up to the salesperson to bring it forward in the conversation, because within any given community location, schools and for the most part, floor plans and aesthetic options are the same for most builders.
---
Here are four things that can help sales personnel bring the conversation forward and arm your prospect with questions to ask your competitors:
1. Research the HERS® Index score.
Are you rating your homes? Do you know your average HERS Index score?
Can your salesperson explain the HERS Index score in three sentences?
Do you have a display that describes the HERS® Index and the actual rating of the model home in the model home?
Do you run the HERS Index video on a loop in your home?
Are your salespeople challenging your prospects to see if the other builders they are looking at are rating their homes to compare average scores?
2. Create a comparison checklist to hand out to your prospective buyers. Pick four meaningful value-propositions so that buyers can compare you to others. Use those four things to highlight how you will meet their unspoken expectation of comfort and efficiency. Be sure that they leave your model home with an understanding that all new homes are not created equal, even though they might look that way.
---
| | | | |
| --- | --- | --- | --- |
| | Great Homes | Builder ______ | Builder ______ |
| Average HERS® Index | 65 | | |
| Third-Party Quality Assurance Inspections | | | |
| Above Code Compliance | | | |
| ENERGY STAR® Certified | | | |
3.  Consider partnering with a program. Programs such as ENERGY STAR® not only help to ensure that you are building the high-performance home that you think you are, but offer tremendous resources to help market your homes. ENERGY STAR marketing collateral is offered at no cost.  The ENERGY STAR label has over a 90% recognition rate amongst consumers. Branding your company with a program brings tremendous value and instant recognition. Most builders do a poor job talking about the great things that they build into their homes. If you can be a little better and consistent with your message, you will see success.
4. Consider including an economic message. The cost of ownership is often as equally important to buyers as the cost of buying a house. Monthly utility bills are the largest controllable portion of the cost of ownership. A simple way to estimate what the average utility cost would be is to take the annual cost from the Home Energy Rating Certificate and divide it by 12.  In the case below $1,817/12=$151.42 per month.  In addition, if you take the annual savings number from below and multiply by an average of 30 mortgages you get $49,620 savings.  These are two quick economic messages that talk specifically to the cost of ownership and savings potential.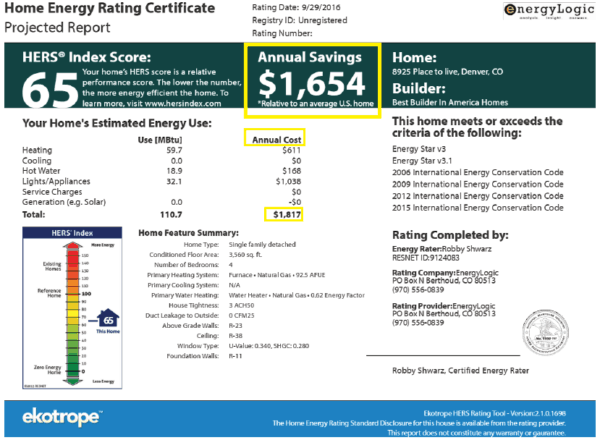 Another economic message that can be used is to take advantage of an Energy Guaranty. For example, EnergyLogic's Built-In Savings Guaranty will pay the homeowner the difference between the predicted annual costs plus 10% and the actual cost. In this way, in partnership, we and a builder are stating that we have such confidence in our process of modeling, building, and providing quality assurance that we will stand behind it with a guaranty.
Building a home is not a simple task.  Building a home without a sound, applied building science and systems-thinking approach lead builders toward a path of excessive builder risk.  Therefore, to recoup value from sound building methodologies, builders need to become better marketers and stronger promoters of the great work they do! Many of the tools are right at their fingertips and my hope is that I was able to help bring them into your grasp.
---
So what do homeowners want? "First and foremost, energy-efficiency. Some of the most wanted features involve saving energy, i.e. energy-star rated appliances and windows, and an energy-star rating for the whole home. Nine out of ten buyers would rather buy a home with energy-efficient features and permanently lower utility bills than one without those features that cost 2% to 3% less."