Rebates and tax credits help offset the high cost of sustainable home-building.

Published October 30, 2023
Cashing in on Sustainability
Building a more energy-efficient or sustainable home typically costs more money. How much more depends on what level of energy efficiency a project is looking to Shattain and how early in the design process energy efficiency goals were discussed. To promote sustainable construction and reduce the demand on infrastructure there are many tax credit incentives and utility rebates available to help offset the additional cost of construction. This list provides a high-level summary of available rebates and tax credits for builders along the Front Range of Colorado.
45L Energy Efficiency Home Tax Credit
Expanded as part of the Inflation Reduction Act, this incentive pays out anywhere from $2,500 to $5,000 in tax credits to the qualified contractor completing new single-family homes for sale or lease. To achieve this tax credit, a home must be certified to ENERGY STAR® for Single Family New Homes or DOE Zero Energy Ready Homes. To learn more about certification requirements and credit amounts visit the ENERGY STAR SFNH or DOE ZERH websites. It is important to note that this is a credit against future tax liability and isn't paid out directly after closing like most rebates.
Xcel Energy ENERGY STAR New Homes Rebates
Xcel Energy offers several tiers of rebates for home efficiency, rebates on specific products, and rebates for all-electric homes.
Efficiency Rebates –$125 – $9,500 per home based on modeled energy usage being a % better than code minimum.
Product Rebates - $20 - $800 per home based on installed products
All Electric Home Rebate - $8,000 - $10,000 per home for achieving ENERGY STAR NextGen and DOE ZERH Certification V2 and not installing gas equipment with some exceptions for gas fireplaces and other supplemental gas appliances.
Each of these rebates can stack on top of each other providing large incentives for home builders in Xcel Territory.
Black Hills Energy Natural Gas Customers
Black Hills Energy provides both prescriptive and performance path options for rebates. Prescriptive rebates are based on the installation of specific space conditioning, water heating, and envelope equipment. This prescriptive rebate can add up to $1,000 per home. The performance path provides a $1,000 rebate and is based on achieving a HERS score that is 10% more efficient than the prevailing energy code. To learn more about this rebate review the program requirements here.
Black Hills Energy Electric Customers
The Black Hills Energy Electric Customer rebate program operates similarly to the Natural Gas Customer Rebates providing both prescriptive and performance rebates for new construction homes. The Electric Customer rebates can provide up to $6,000 under the prescriptive path and $3,000 under the performance path. To learn more about this rebate review the program requirements here.
Colorado Springs Utilities
As both a water and power provider Colorado Spring Utilities offers rebates for both improved energy efficiency and using water-efficient fixtures and irrigation equipment.
Colorado Springs Utilities' Builder Incentive Program provides rebates for both reduced HERS scores and for the installation of efficient Heat Pump equipment. Rebates start at $200 per home but can quickly ramp up to over $1000 per home based on the installed equipment and certifications. To learn more about this program, visit the requirements here.
Colorado Springs Utilities also offers rebates on ultra-high efficiency toilets with 0.8 gallon flush and for efficient irrigation equipment. These water efficiency rebates are available for both new construction and existing homes. To learn more, click here.
There is always the opportunity to receive both rebates and tax credits on a project to further leverage any investments made in additional energy efficiency. Here is one example of a single-family project in Xcel's Territory.
---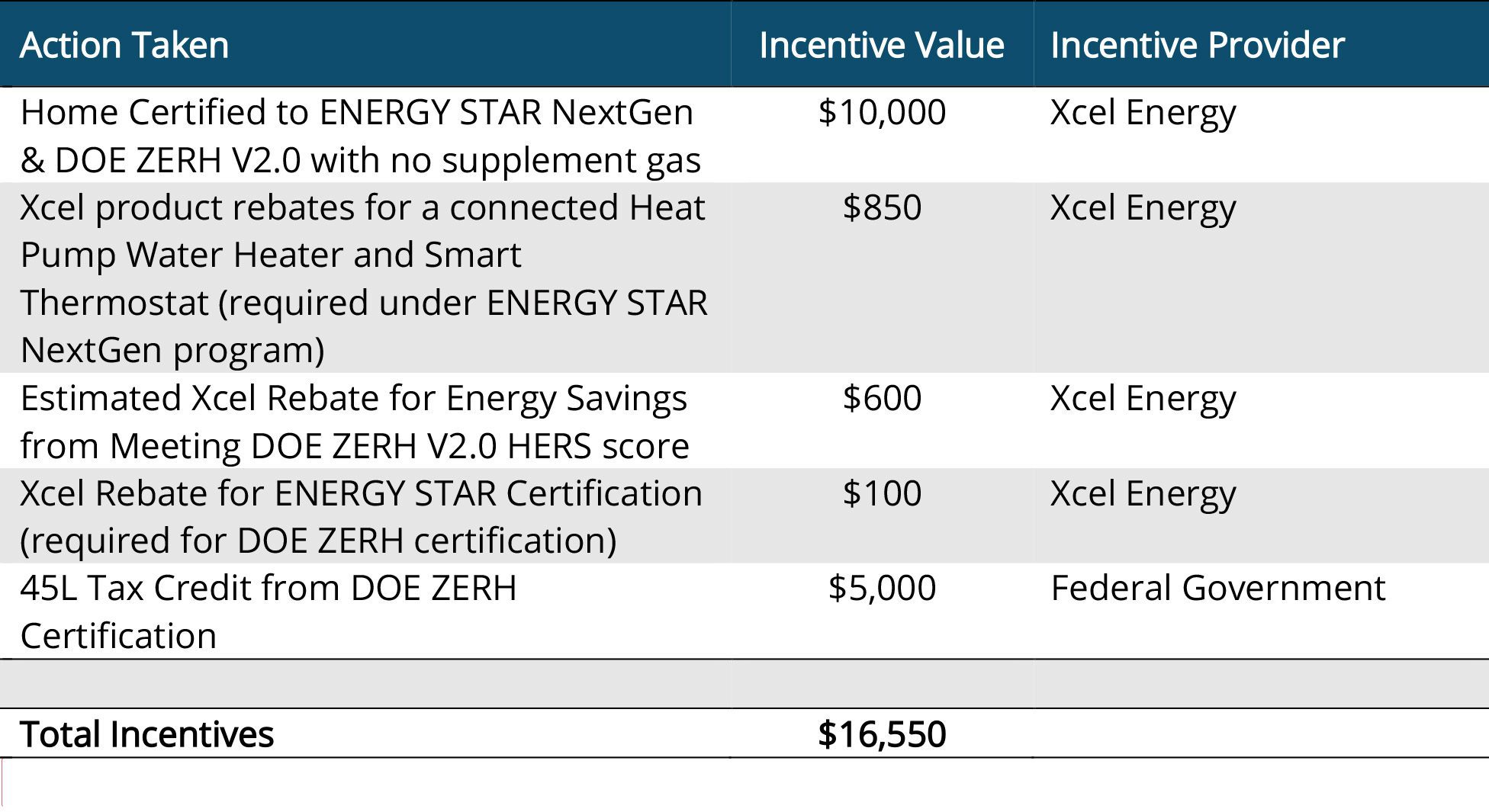 With the passage of the IRA along with several incentives at the utility, state, and municipal level it is anticipated that funds will continue to flow into energy efficiency programs across the state of Colorado. Having a reliable partner like EnergyLogic to assist in accessing and applying for these funds is more important than ever. Please reach out to your business development contact to learn more about financial incentives and learn what is available to you.