Work Completed by EnergyLogic in 2016

We completed just over 4,600 inspections in 2016!

---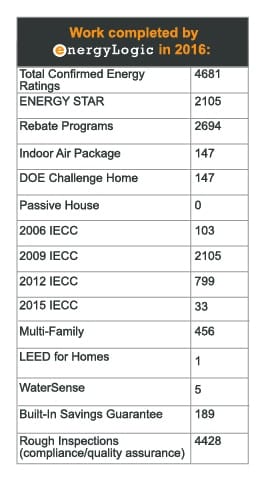 Happy New Year!
Before getting too far down the road, we want to take a moment to thank you for your trust in us, and our work. Thank you for allowing us to help you with your code and program compliance, generation of the HERS Index, and quality assurance needs. We hope your new year is prosperous and successful!
We completed just over 4,600 inspections in 2016. That work is broken out in the table to the right. We are not only proud of our people, we are proud to have worked with our partners through such a successful year. We are thankful for the opportunities our partners, and their teams, have provided by allowing us to collaborate with them in reaching their goals.
As we continue to serve your inspection and quality assurance needs, I want to remind you that we are continuing to grow and innovate to better meet the challenges of our industry.
---
We have restructured our company to create field teams, which allows us to have better communication both internally and externally. This ensures that our consistency, accuracy, and professionalism perform at its highest level.
We have excitedly expanded our service offerings to include water management inspections to complement our existing quality assurance 3rd

 

party work, warranty inspection to better determine warranty issues and solutions, as well as HVAC design and quality installation services.
Lastly, we are continually growing and training our field staff of Raters to be at the top of their game andto maintain our expanding knowledge base and skill set to continue leading the industry.
Thank you. We look forward to a wonderful 2017!
Robby Schwarz and the EnergyLogic Team
---