Whole House Ventilation Strategy


---
Ventilation and Exhaust Fan Woes
Asthma, moisture damage, poor indoor air quality.
Not getting your ventilation strategy right can result in creating or making these things worse. Getting it right is a big part of ensuring happy and healthy buyers in your homes.
Everyone wants to live in a home that supports health and no one wants to live in anything else. Moms, dads, kids and grandmas; all of us can be affected.
Correctly installed, whole house ventilation is an essential part of achieving healthy air quality.
---
Build Tight, Ventilate Right!
As houses continue to be built tighter and tighter, the importance of ventilation and providing adequate fresh air to occupants grows. Ventilation requirements of ENERGY STAR® and the 2012 IECC reflect this growing importance.
Recognizing that many builders are installing exhaust fans to meet whole-house ventilation requirements, manufacturers are offering some new-innovative fans and controllers to meet this growing demand.
Look for a Bath Fan that Ventilates and Exhausts
Panasonic Whisper Green series and Broan Ultra series are two products we see often.
Both fans are designed to operate at a continuous ventilation speed for background ventilation. They can also be ramped up to an exhaust (maximum) speed for spot ventilation.
When properly wired to a wall switch, the fan ventilates when the switch is off and exhausts when the wall switch is on. Ventilation speed is set by a knob on the fan itself so that it can be adjusted to meet the ASHRAE 62.2 ventilation rate.
Beware: Advanced Bath Fans are Often Installed Incorrectly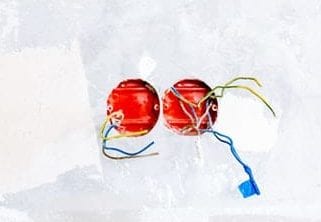 At EnergyLogic, our biggest frustration has been finding these fans incorrectly wired, preventing them from operating as designed.
The wiring process is different than a standard bath fan and to complicate matters, different from one brand to another.
Quite often we test fans that cannot be adjusted to meet the ASHRAE requirements and either over ventilate or under ventilate the home. Each time, the fans are not wired per the manufacturer instructions.
We have even seen oversized fans that are modified with an inline damper to try to adjust the flow to meet ASHRAE. This limits the effectiveness of the fan and drastically increases the noise. A loud fan is a fan the homeowner will turn off.
By understanding how these fans are supposed to work and properly wiring them, builders can be assured that their investment in a high quality, multi-use fan will perform as designed, providing fresh air to the homeowners and running quietly in the background.
As Raters and experts in applied building science, we strive to be knowledgeable in the ventilation systems our clients are installing and to help their trade partners understand the technical aspects of the systems.
We encourage our builders to contact EnergyLogic directly for access to our tech bulletins on exhaust ventilation wiring and installation or to get help navigating the maze of various products and configurations available to meet the new ventilation requirements.
---
---
"As houses continue to be built tighter and tighter, the importance of ventilation and providing adequate fresh air to occupants grows."